(AGENPARL) – HAWAIIAN ISLANDS, mer 25 novembre 2020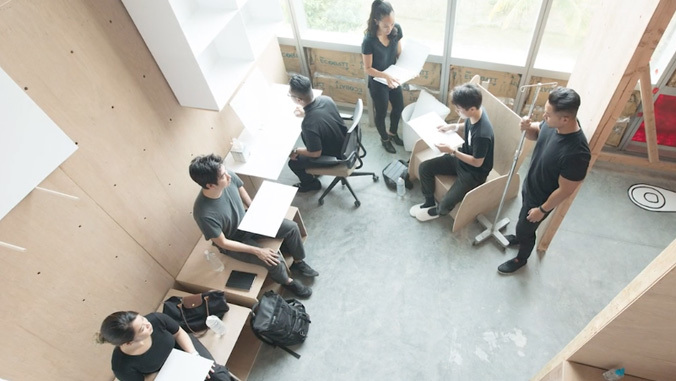 A mock-up of a phase one clinical trials (P1CT) infusion suite at the University of Hawaiʻi Cancer Center has received the Distinctive Detail Award from the American Institute of Architects (AIA) Honolulu. The award recognizes the project's individual components and design features, and celebrates the designers' attention to detail, craftsmanship and spirit of innovation.
The mock-up's design team of 10 students was led by Brian Strawn, senior research associate with the UH Community Design Center.
The foundation for the project's design was created after conversations with the UH Cancer Center's Patient Advocacy Committee (PAC), a group of cancer survivors, their family members and friends, and other individuals who have been impacted by clinical trials. The group's goal is to educate the public about clinical trials and encourage their participation.
"The experiences of PAC members guided this project on multiple levels—from weaving the project into the neighborhood, all the way to the design of a series of ideal patient experiences," said Strawn, principal investigator. In addition to the PAC, the designers received input from physicians, clinical researchers and other healthcare professionals.
A full-scale mock-up of the P1CT infusion suite was built within the existing shell space at the UH Cancer Center, where an early phase clinical research center is planned for 2021. It was constructed with simple materials, with the focus on functionality. The mock-up is a flexible research tool that stakeholders can quickly modify to create a particular design that would best serve Hawaiʻi's cancer patients and their families.
Project collaborators from the UH Community Design Center, including investigators and students, were commended for their ability to create a design capturing the various medical and emotional sensitivities that surround cancer treatment. "It's not often that a research and design project can have such an immediate impact on a community. It's even rarer that students and recent graduates get to gain real-world experience on a project of this significance," said Strawn.
The post Student-designed UH Cancer Center clinical trials suite wins award first appeared on University of Hawaiʻi System News.
Fonte/Source: http://feedproxy.google.com/~r/UHawaiiNews/~3/Xn9y3y0_6dk/