(AGENPARL) – HALIFAX (NOVA SCOTIA CANADA), ven 22 gennaio 2021
Martin Luther King Jr. possessed many powerful qualities as a leader, key among them being a way with words.
For decades, people have continued to be inspired and motivated by the U.S. civil rights pioneer's perspectives and wisdom — helping to share and pass on his legacy long after he was tragically assassinated at a motel in Memphis in 1968.
As part of their conversation, panelists at an online event this past Monday to mark Martin Luther King Jr. Day shared quotes of their choice from King, explaining what it was that moved them in his words.
For Jalana Lewis, director of African Nova Scotian community engagement at Dal, it was one of King's famous quotes about moving forward. "If you can't fly then run, if you can't run then walk, if you can't walk then crawl, but whatever you do you have to keep moving forward," she quoted.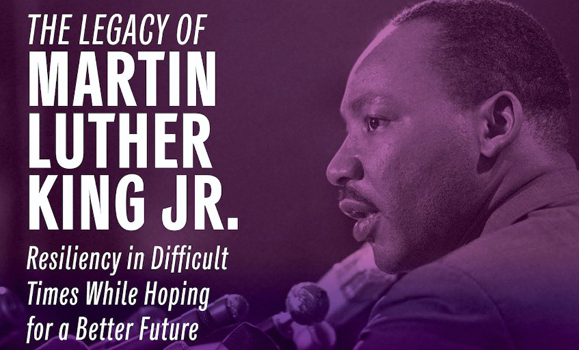 As Lewis explained, the words capture the spirit persistence and resilience King came to be so well-known for: "We persist, we are resilient and we continue to hope for a better future," she said.
Other panelists at the online event — hosted by Dal's Black Student Advising Centre and moderated by Tiffany Gordon, a doctoral candidate in Philosophy at Dal — included Robert Wright, a Halifax-based social worker and psychologist; Douglas Ruck, chair of the Board of Governors for the University of King's College; and Lissa Skitolsky, the Simon and Riva Spatz Visiting Chair of Jewish Studies.
Ruck also emphasized King's oratorical power in his remarks, pointing out that "he was an extraordinary leader and had a way of transcending [groups of people]."
Hope emerges from despair
Conversation at the two-hour event led way to resilience and the importance of maintaining hope when facing major difficulties and hurdles.
Dr. Skitolsky described King as a "uniquely powerful leader who we all draw from," especially in challenging times like the present.
"[There is] a lot of despair about the present and the shape of the future," said Dr. Skitolsky. "However, one of the important lessons we learn from MLK is that hope is not opposed, rather emerges from out of despair."
Dr. Wright noted that King has become a hero and model for Black resilience and hope throughout the entire African diaspora.
"Resilience comes out of the words of mechanics . . . springs are resilient. No matter how much pressure you put on it, or how small you compress it, it waits patiently, and when the weight is alleviated it regains its previous shape," explained Dr. Wright. "Black people have been under a heavy weight for some time now, but we are pushing back, and results are being seen."
A leader worth emulating
The online event ended with a 30-minute question-and-answer session that invited audience participation.
When asked how to foster authentic engagement between Black and non-Black people, Lewis told attendees to "learn the history, borrow a book from the library, read scholars who have spent time to create works. Engage in a way that is not presumptuous, and don't take up space."
The event operated as a space for commemoration and community and was one of many illustrations that MLK Jr.'s legacy continues to live on and hold significance in the lives of people around the world today.
"Martin Luther King Jr must be the kind of person we can emulate, who can guide our own lifestyle," Ruck said. "We must try and make a difference."
Fonte/Source: https://www.dal.ca/news/2021/01/22/resilience–now–paying-tribute-to-the-continued-power-and-influ.html?utm_source=dalnewsRSS&utm_medium=RSS&utm_campaign=dalnews